We're always working to improve the conference experience based on your feedback. Here are a few of the new and improved elements of this year's event.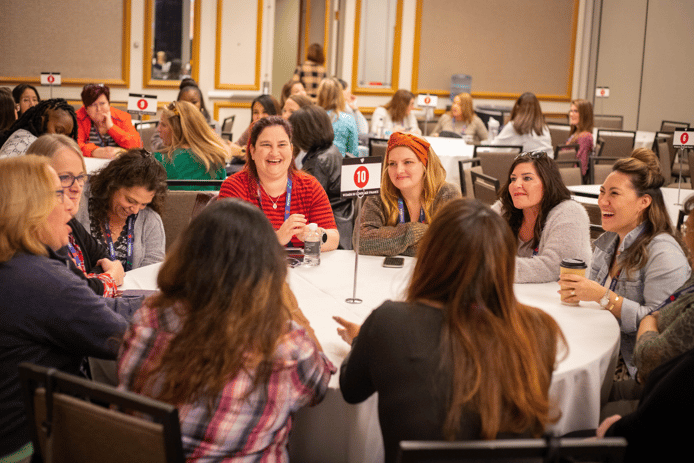 Women in Consumer Finance will be back in sunny Palm Springs, CA for 3 days of personal and professional development from December 11-13. But, make no mistake. Just because the location is the same doesn't mean the conference will be!
Here's a look at what's new for this year:
1. You choose your preferred engagement style.
Teams are a central part of what makes WCF so special, but all the rah-rah isn't for everyone. When you register for our 2023 event, you'll have the opportunity to select what kind of team experience you'd like. If you want to wear matching shirts and go all out for the scavenger hunt, we've got you covered! If you're looking for more of a quiet bonding experience, we've got you too. You can even choose to opt out of the team experience altogether if it's not really your thing. (Note: For first-time attendees, the team experience is not optional.)
2. Workshops based on career stage.
We want our workshops to be useful for women at all stages of their careers–from emerging leaders to executives. That's why we're offering more workshops than ever before that cater to different audiences. The 2023 agenda clearly outlines who each session is intended for, so you can quickly decide which will be most helpful for you.
3. Karaoke
Nothing screams bonding more than good, old-fashioned karaoke. You'll have the chance to sing your heart out with your new friends and make amazing memories after our first day together. (This is, of course, an optional activity for those who prefer to preserve their voices for solo car rides.)
4. All new pre-conference activities.
Our pre-conference activities were a HUGE hit last year. They sold out weeks before the event and offered attendees great ways to take in the scenery and start connecting before we officially kicked off. This year we're offering 5 new, optional activity options for you to choose from. Activities range from exploring the San Andreas Fault Zone in a Jeep to relaxing in a mindfulness session. Check out all of the activities here.
5. Speakers
As always, we've got a lineup of fresh faces ready to inspire and guide you through your 3 days with us. You'll hear from new keynotes, storytellers, and workshop leaders. We've got some very exciting names on the agenda that we can't wait to share with you soon.
4. Morning mindfulness sessions.
In years past, we've offered optional morning yoga sessions, but as we continue to grow, it's become less feasible to accommodate everyone who would like to participate. (Yoga isn't very relaxing when you're in a cramped room trying to stretch with someone's foot in your face.) For those who would like to join, our mindfulness sessions will allow you to slow down and clear your mind before you start your day of self-work.
Not yet registered to join us this year? What are you waiting for? Last year's conference sold out over a month in advance, and tickets are selling even faster this year. Secure your place at Women in Consumer Finance 2023.